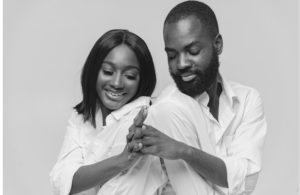 I was nervous as I stood in front of the two story duplex. Christy loudly smacked on a wad of gum. I had written: "Welcome to the neighborhood," in spidery letters across the top of the cake. Now as I held it, it looked like a childish scrawl. The last thing I would want is for Titi Lawrence to poke fun at my famous chocolate cake.
We knocked lightly then slightly louder. No answer. We waited and knocked again. Then suddenly a pale red rimmed face appeared at the door. I almost did not recognize her. It was Titi. What could be wrong with her? Would she recognize me?
"Hi, welcome to the neighborhood," I said and offered her the cake.
She took it and smiled but her smile didn't seem to quite reach her eyes.
"Thank you very much," she said softly.
"I am Christy and she is Chinelo," Christy offered in between smacks of chewing.
I saw something that looked like a flicker in Titi's eyes. Was it recognition?
"My name is Titi. Titi Banjoko. It's so nice to have such wonderful neighbors," she said absently.
Beside me, Christy was nudging me to take note of something but I couldn't see whatever it was she wanted me to see.
"Well we live over there," I said pointing to my modest bungalow and Christy's more opulent duplex.
"We're very sociable here. Feel free to drop in anytime," I said hoping she would invite me too.
"I'll be sure to take note of that," Titi said. "Thanks again Chinelo and Christy. My family truly appreciates this." She made a move as if to close the door.
"I do not mean to be rude but I really must go now as I have some pressing matters to attend to."
"Of course," I mumbled. "Not a problem."
"We understand," Christy added and we backed away.
On the way back home Christy was full of chatter about Titi. About how red her eyes looked and how old her weave-on was and that it needed changing and how expensive her brocade material was.
I was concerned with only one thing.
Titi was sad for some reason. And I wanted to know why. I was fairly certain that to maintain her image in the community she would try to repay us with a culinary feat of her own. Perhaps when she did it, I would have my chance to talk with her.
The baby was soaked when I got home never mind that I had left her with her grandmother. But granny was interested in the intriguing characters on African magic. I was beginning to hate that station. The things it does to good women.
I had barely got the baby changed and dinner on the cooker when Ike arrived. He was earlier than usual and he did not look happy. It seemed he was trying to hide it from me because he tried to act as if nothing was amiss. I waited till after dinner to ask him but he wouldn't say.
"It's nothing dear. I'm just tired," he said planting a kiss on my forehead. My internal radar told me that that wasn't all. But I didn't want to push. He did look tired. My brain was very active though wondering what it could be. It wasn't that he was getting laid off work, was he? Did his business deal go sour? Would we have to move from this house? Perhaps I should find a job immediately. I managed to stop myself. Breathe, Chinelo breathe, I told myself. God's got this, whatever it is.
Titi showed up sooner than I expected. I was rounding up some business online the next day when the doorbell rang. It was Titi with her culinary feat. She had made a batch of homemade cookies. She appeared brighter than the previous day and she said nothing about recognizing me from an earlier time. I was quick to invite her in and then I took one of the cookies she had made. It was absolutely scrumptious. I had expected nothing less. Titi at her competitive best.
"These cookies are amazing Titi. Your husband must be truly lucky to be able to enjoy such wonderful cooking," I said as she sipped on a glass of lemonade.
To my shock and dismay, she suddenly burst into tears. She wept profusely fior about five minutes while I awkwardly put a hand on her shoulder and got her a tissue.
Then she dabbed at her eyes with a tissue and looked at me with a tearful smile. "I'm really sorry Chinelo. I've just been stressed a lot lately with the move and all and my nerves are not handling it very well."'
I looked at her with concern. Her skin looked almost translucent. "Are you sure that's all it is?"
"Yes. I'm fine." She seemed embarrassed or standoffish and she got up to leave. "Thanks a lot Chinelo. See you around."
I walked her to the door with many thoughts swirling through my mind. Clearly she was hiding something but what? And how could I find out?