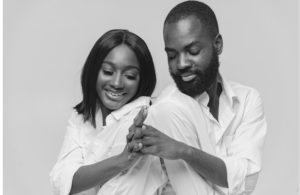 I rolled over on the side of the bed and looked at the time. 6.30 am. I had to be on my way to work if I wanted to beat the morning traffic. Ike had already got up and was bathing Anna. I was grateful. I had no reason to fuss this morning. As his office was nearer, he would drop Anna at school and I would be able to pick her up on my way from work. We were functioning like a well oiled machine.
We had put the Madu  saga behind us and Ike had kept his job but was working towards setting up his company in the future. He wanted to spend more time with the family. I was enjoying my new challenges at work although I still got needled that I had to get up early. And Titi was doing great.  She had recently got a new job as a secretary and though the pay was modest, after the divorce settlement and her family's support she was quite well off. In fact, we would see how well she was doing tonight as we were inviting her for dinner.
The whole episode had made me learn not to take things for granted. I found more reasons to be thankful these days. Less reasons to worry. And although my dear Chinelo had lost her gist partner; she had been keeping herself busy by getting elected as the chairman of the landlords association which afforded her the opportunity to visit everyone's home within the estate and suggest improvements. A job which she relished. I had seen her grow in her role and was gratified.
And I had a surprise Ike didn't know about yet. I planned to buy the test kit on my way home but I was fairly certain Anna may have a little brother or sister soon. And as I got behind the wheel, I was tempted to look ahead and wonder how I was going to cope with the new job and added responsibility and Ike planning to make this major change. then I shook my head as if in an attempt to clear it. Worrying was so yesterday. Fussing was so last year. I had learnt of a more productive way…