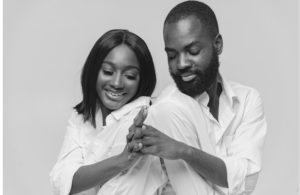 I was irritated as I heard the incessant knocking on my front door. It was Christy. The last person I expected or wanted to see at this time as I filled in my job applications online.
"I'm busy Christy," I said cutting her off. I really wasn't in the mood.
She gave me a sad smile. "I can see that Chinelo." She paused and looked me straight in the eye. "I know there's something going on with you Chi and I know you don't trust me enough to tell me what it is…"
"Christy-" I began but she stopped me and placed a hand on my arm.
"You don't have to tell me what it is Chinelo. I just wanted to let you know that I'm here for you. If you need help with babysitting or anything, just let me know. You're my only friend in this neighborhood Chinelo and I just want you to know that I care about you."
I couldn't say anything but held out my hands to her and we shared a brief hug. I had judged this woman too harshly, I thought to myself.
"Thank you Christy," I said in a voice barely above a whisper.
She smiled and left. I sighed. Her honest care and concern was like balm to my soul.
Ike came towards the door as I locked it. He had been having difficulty sleeping at night and there were dark circles under his eyes. He was dozing fitfully before Christy came. The knock must have woken him up.
"Sorry honey, it was Christy. But she's gone now."
"What did she want?" he said gruffly.
"Just checking up on me." I saw the question in his eyes and sought to allay his fears. "No, I didn't tell her anything. She said I didn't have to either. She seemed genuinely concerned like a friend." I tried to reassure him knowing it was me and my voiced opinion of Christy that made him question her ability to keep her mouth shut.
"Humph. Friends. Don't let people deceive you o Chi. See what happened to me. I thought he was my friend."
I put my arms around him. "We'll get through this Ike, I promise."
He sighed. "Chi, sit down. There's something I want to talk to you about."
I sat down with some trepidation. I didn't want to hear any more bad news.
"We have to sell the house Chi. It's the only way we can raise some capital to offset some of the costs for the lawyer and even for paying the company back."
I shook my head voluntarily. Selling the house? That was the makings of my worst nightmare. It would mean that everything that we worked so hard to build had come undone.
"No, Ike. There must be some other way. See, I'm looking for work. I applied today. I'll find something soon."
Ike ran a hand through his hair. "Look Chi, I appreciate that really. But we need to be practical. We need quite a bit of money."
"Ike let's sell one of the cars then. Please let's not talk about selling the house except as a last resort."
Ike sighed again and I felt rather desperate. God, please don't let us lose our house!
"Whatever you say honey."
I watched him as he walked back to the room. He seemed a shell of what he once was.
The preliminary hearing was in two weeks. The lawyer told us that the court proceedings could drag on forever and it was only by God's mercy that he hadn't been put in jail before the hearing. We needed a miracle. That man who stole this money needed to come back and pay for his crimes.
Ten minutes later, my phone rang. It was Titi. I had forgotten her in the past few days as I was immersed in my own problems.
"Hi Chinelo," she said without preamble as soon as I picked the call. "There's something I want to ask you."
"Yes. What is it?" I said in an even tone. Her voice sounded like it was really important.
"Are you Chinelo nee Mbekwe, and did you attend University of Nigeria, Nssuka in 2007?"
Wow, I thought. She had figured it out before I had an opportunity to tell her.
"Yes," I said softly.
She sighed into the phone.
"Yes, I thought so. So you came to my house and pretended to be my friend and heard all my secrets just so that you could get back at me because of what happened at school?" She said her voice rising.
I couldn't believe my ears. Did she know how preposterous she sounded?
"Of course not. Why on earth would you think that?"
"Then why did you not let me know you were the one since we first met. I bet you and your husband have been having a good laugh at my misfortune."
I didn't know whether to laugh or cry. So I waited for her to take a breath.
"Well then, I have had enough of being laughed at. Don't call me or come to my house again!"
With that, she ended the call.
I stared at my phone for five minutes. Then I decided I needed a cup of good strong coffee because apparently everything that was happening was a bad dream and I needed to wake up.