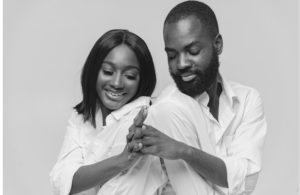 That night I couldn't sleep. I just tossed and turned on my bed and wondered where God was. I wanted to awaken from this living nightmare where nothing seemed right. As if sensing my frustration, Anna fussed in her cot and I got up to cuddle her. I was surprised when Ike came out of the bedroom to join us in the nursery.
"What's the matter dear? Is she ok?"
"She's fine," I said placing her back gently in her cot.
"Are you ok dear? You've been restless all night," he said putting a hand on my shoulder. I sighed. So he had noticed.
"I'll be fine Ike. Just thinking."
He put his arms around me but strangely at that moment I didn't want to be held. I just wanted the storm to pass. I just wanted things to be the way they used to be before this evil wind blew.
We went back to bed and I finally settled into a dreamless sleep.
In the morning, I eagerly checked my emails and yes, there it was. An invitation to a job interview for the next day. I was dismayed when I saw the address. It was at the opposite end of town and traffic was infernal. It was in a bid to avoid that awful traffic that we had bought a house in this estate which was close to everything; Ike's job, church and many of our friends. This house that we might have to sell soon, I thought grimly.
Anyway, it was no use feeling sorry for myself. I had an interview to prepare for. As I searched for likely interview questions online, I was surprised to see Ike dressed up smartly coming out of the bedroom.
"Where are you going?" I asked him.
"Well, my friend Lamide has found some potential buyers for the car. And now, don't fret honey but he also wants me to meet a real estate agent."
"For the house?" I queried.
"Yes," he said and I could see him bracing himself for my outburst.
"Ike, we agreed…" I began.
"I know Chi. Just like you said we wouldn't do it unless we had to. I won't bring him to see the house. I'll only discuss with him."
I nodded, resignedly. This nightmare was becoming more real every day.
"By the way, I have an interview."
"Oh great," he said. "Where?"
"Apapa," I said. He grimaced and I knew he was thinking about the traffic I would face.
"I'm sure you'd be great honey," he said and gave me a peck on the cheek as he left the house.
As soon as the door shut down, I began to think of the ramifications of my working out of the home.
We would need someone to take care of Anna; perhaps send for Ike's mother who lived in another state which also meant we would have to tell her everything we were going through. Or on the alternative we could find her a crèche but that also meant more money that we couldn't afford. No more elaborate meals because I wouldn't have the time or energy to cook them. I might have to consider using the bus more often because it was often a lot wiser to do so than driving home in the awful traffic. I just felt depressed thinking about it.
A verse of scripture came to my mind at that point. "Cast all your anxiety on Him for he cares for you."
I opened my Bible to find it. There it was. I Peter 5:7 . Such a simple scripture yet so difficult for me to do.
My heart was full. I wasn't sure I could even adequately express how I was feeling. But I would give it a try.
"Lord you alone know the anguish I feel at this moment. I feel as if my world has been ripped out under me. Clear my husband's name Lord. He cannot go to prison neither can we lose this house. Help us lord. Give us wisdom. Deliver us…"
I was rambling but I believe God understood my heartfelt plea. And slowly it crept on me that I didn't even notice at first. A strange sense of calm. Something very much like peace.
I left my house around 6.00am for the 9.00amm interview. It had been a struggle to get into my smart skirt suit that morning. Apparently I had gained a few more pounds than I was aware of. Perhaps getting out of the house might not be so bad for me after all. As the bus moved slowly on, I thought about the events of the previous night. Ike had come in a bit more optimistic than he had gone out and said he was getting better offers than he expected on the car. But he was going to meet with a few mire potential buyers before making up his mind. He was surprised to see me looking calm and cheerful and I told him about the scripture verse and my prayer. Then we prayed together and went to bed more hopeful than we had been in the past week.
The bus was moving at a crawl and I sighed. I brought out my novel and tried to lose myself in the story and forget everything around me.
Finally at a quarter to nine, I got to the venue with beads of perspiration on my forehead. I glanced at two other candidates who were reading some material with them and did not seem willing to make conversation. They seemed like young, fresh graduates.
I was suddenly very nervous. What would they say when they heard Í had not been working for three years?
At 9.15 I was ushered into the room and I saw the interview panel of six people. And I wanted to disappear. They were too many! It wasn't like I was interviewing to be managing director of their company for Pete's sake. As I took my seat, I had never felt so far out of my league…